XII Festival "Follow your dream" and "GALAXY CAMP"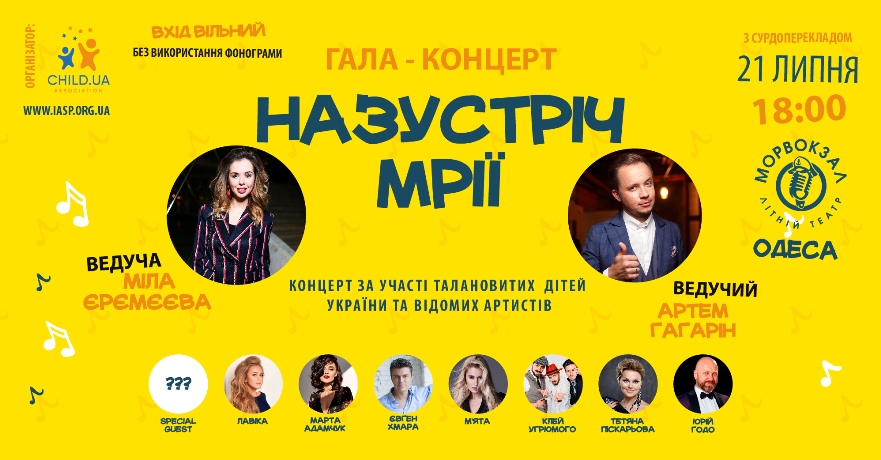 This year our festival "Follow your dream" will be 12 years old.
From 16 to 30 July 2018, the Association "CHILD.UA" will hold the XII festival within the framework of the summer camp "GALAXY CAMP" on the Black Sea coast (Koblevo village).
The main goal of the camp – psychological and social rehabilitation of children of socially unprotected categories through creativity, namely, reducing anxiety, fears, overcoming stress and expanding the circle of communication.
The camp program has a social character. Thanks to philanthropists, more than 180 talented children from orphanages, boarding schools and immigrants from the East of Ukraine and the Crimea will go to the camp. Thirty specialists of the "GALAXY CAMP" (highly qualified teaching staff to implement therapeutic programs and other socializing activities to work out psycho-social trauma in children during their entire stay in the camp) are involved in the implementation of the camp program.
All children coming to the camp are winners of the creative contest "Follow your dream" and most of them will become participants of a grand gala concert and perform together with Ukrainian artists on the big stage.
The culmination of a large galactic journey will be a space concert – "Parade of the Planets", where children will demonstrate their new skills and abilities, to support them in this will be real Ukrainian pop stars.
July 19 – XII contest "Follow your dream" in the camp "Brigantine". The composition of the jury: The head of the jury – Andris Kapins, Evgeny Khmara, Tatyana Piskareva, Martha Adamchuk, Lavika, Roman Solonenko, Nikolai Kobzov, Anna Klyushnichenko, Inga Selina, Yuriy Melenty.
July 21, 18:00 in the center of Odessa, at the seaport – a charity Galactic concert will take place with the participation of Ukrainian pop stars: Martha Adamchuk, Evgeny Khmara, Tatyana Piskareva, Yuriy Godo, Lavika, Myata, "Kley Ygrymogo" band and Mysterious Headliner (special guest). Presenters of the gala concert: Mila Yeremeeva and Artyom Gagarin.
The main goal of the festival – the socialization and creative communication of children for the full development and gaining confidence in their abilities and skills through creativity.
We have teamed up to help children who find themselves in difficult life circumstances, to realize their creative potential and it is useful to spend the summer holidays on the Black Sea coast.