#MarathonDobra with the New Year musical in the frontline area of Donbass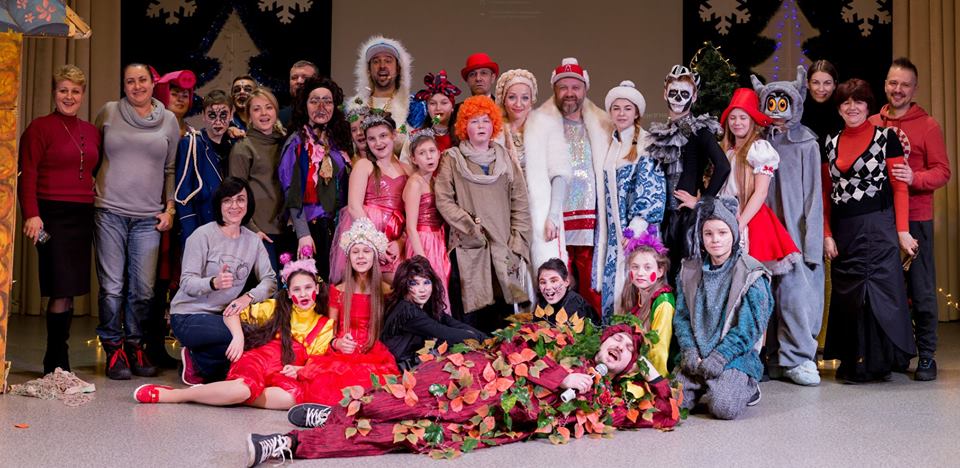 New Year's #MarathonDobra started on January 17, 2019 in the frontline city Schast'ye was over.
In a few days, the team of the Child.ua Association, Ukrainian artists: Roman Solonenko, Oksamyta, Yuriy Lukyanenko (Godo), Andris Kapins; the teacher-organizer Galina Shalimova, the pupils of Toretskaya Secondary School No. 8 and the participants and winners of the "Follow your dream" festival presented a trully New Year's fairy tale to children from the frontline area of Donbass.
In the cities Schast'ye, Novoaydar, Toretsk, and the village Opytnoye, 1,500 children, who were in difficult life circumstances, attended the festive performance "New Year's Kaleidoscope".
"Your musical has replaced the work of the whole teaching staff of the school! You gave a fairy tale, love and joy not only to children, but also to us, adults. We are very grateful to your troupe and invite you again. This is not enough for us"- says Natalya Koreneeva, deputy director for educational work at Opytnenskaya secondary school.
In addition to the positive impressions, the guests of the performance received sweet gifts to get a taste of the New Year holiday.
The purpose of the New Year's #MarathonDobra was to give a real miracle to children from the frontline areas.
"For children from the East, who constantly see the cruel reality – the war, it is especially important not to lose faith in the good and the New Year miracles. They believe in wizards who bring peace, joy, and happiness to their lives. And although we are not omnipotent, we can still make efforts to please those who demand attention, care, support and understanding with something. We can arrange a holiday, create a mood, share warmth, please children with long-awaited gifts. Of course, such socially unprotected children require attention not only during the New Year holidays with their unique atmosphere, but such holidays especially inspire to show kindness and make at least a small miracle"- says the President of the Child.ua Association Eugenia Tymoshenko.
Recall, the New Year's #MarathonDobra started on December 15, 2018 in Kyiv in the Lavina Mall shopping center, where a charity concert of Ukrainian pop stars and a fixation of the Ukrainian record took place. Young visitors to the event, together with artists, created the largest coloring in Ukraine, measuring more than 70 square meters. New Year's #MarathonDobra CHILD.UA unites all those who are not indifferent around a good goal – to give children, who find themselves in difficult life circumstances, a real holiday.
For reference:
CHILD.UA, led by Eugenia Tymoshenko, unites international and all-Ukrainian public organizations to help children in difficult life circumstances, giving them opportunities and skills for a better future. Every year, CHILD.UA holds about 30 charity events and helps 3,000 children. The organization deals with the socialization and psychological rehabilitation of children, provides charitable assistance, helps them to develop culturally and creatively.