"Charitable services" — Autism Friendly Space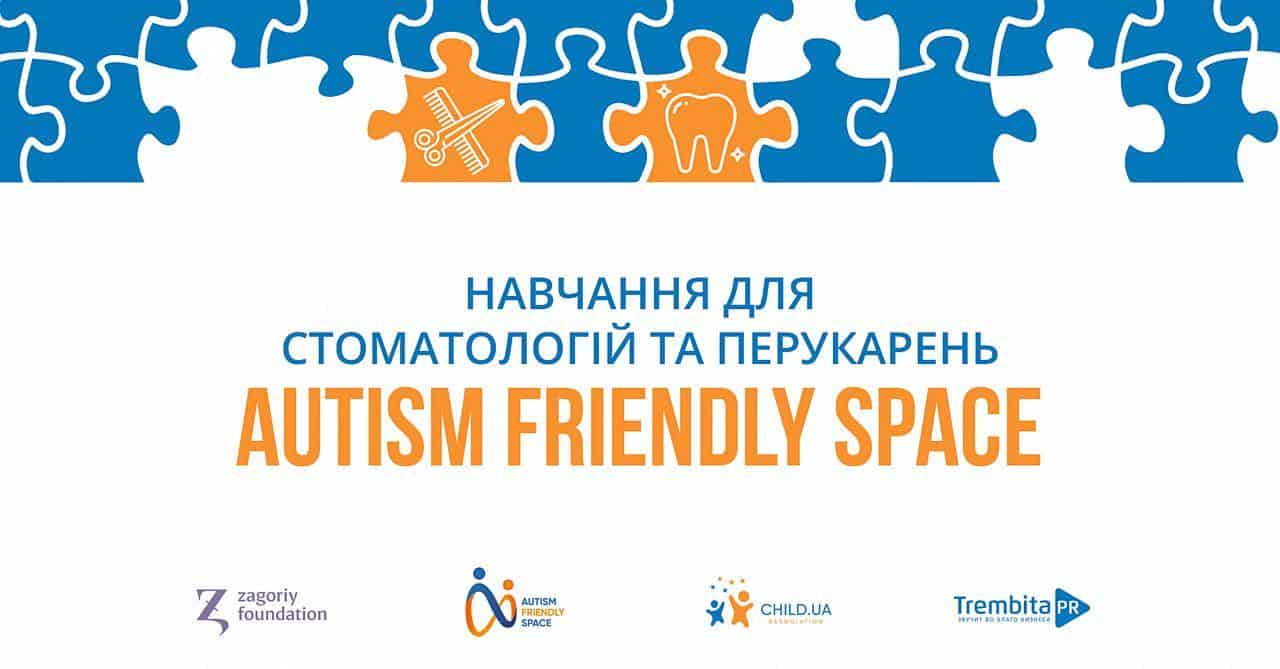 Thanks to the programme «Autism Friendly Space» businesses could learn about how to serve guests with ASD.
This will enable to have +2% of customers monthly!
Recruitment is ongoing for the program «Autism Friendly Space» (AFS) from the Association «Child.ua»  for Dentistry and Hairdressers which want to be trained how to deal with customers with autism. According to organizers this program would help to the society to become more aware about ASD, for businesses-to increase the consumer base and to brake new ground in service, for individuals with autism-to become visible for society.
The project has been implemented due to the financial support of Zagoriy Foundation.
Businesses ready to serve clients with autism recently received several advantages:
– New customers. According to the date of thhttps://www.autismspeaks.org/press-release/cdc-estimate-autism-prevalence-increases-nearly-10-percent-1-54-children-use U.S. Centers for Disease Control autistic features has 1 of 54 people. Individuals with ASD – is a large segment of potential customers of companies who provide products or services such as hairdressers, dentistry, food establishments, shops, educational and entertainment centers.
To assess by AFS, each dentistry and hairdresser lose at least 2% such new customers.
– Social responsibility and loyalty of customers. Including people with autism creates social component of business. Global report of corporation social responsibility claims that 68% of Ukrainian customers return to sellers with social initiatives. https://www.nielsen.com/ru/ru/insights/report/2015/global-corporate-social-responsibility-report-2015/
– European level of service. In developed counties individuals with ASD visiting restaurants, hairdressers, cinemas etc. without restriction. Ukrainian enterprises get a possibility to be involved in European practices and to reach another level of service.
– Building an inclusive society. Every business providing services who are opening the doors for customers with autism contribute to create an inclusive environment and development of the society. Because of inclusion every person realize that he is unique, valuable and are able to realize his potential.
«Association «Child.ua» have been working for creation mechanisms for systematic solution of autism issues in Ukraine for several years in a row. Together with partners we are carrying out an order important initiatives, one of which is all-Ukrainian map Autism Friendly Space, that fostering of a social inclusion. We aim to each locality was hairdresser and dentistry that knows how to deal with customers with ASD». – noted Eugenia Tymoshenko, President of Association Child.ua.
«Individuals with ASD seeing things differently and they need certain conditions. After they have received training they received necessary skills for serving customers with ASD. We, for our part, promoting such companies and recommend them for people». – said Anna Davidenko, manager of the program «Autism Friendly Space».
«Zagoriy Foundation supports such projects and organizations which are able to quality transform our country. We believe that we would reach better feature only if we could take into consideration the interests of different segments of our society. Creation of friendly space for individuals with autism there is an important step in creation an inclusive society», — noted Eugenia Mazurenko, Director of Zagoriy Foundation
Since completing free training in December 2020 and January 2021, dentistry clinics and beauty salons will get special equipment, certificate of friendly space place, statues of social responsible business and will be placed on the interactive map «Autism Friendly Space» ( https://autism.ua/autism-friendly-space/30-karta-autism-friendly-space).
The map unites Ukrainian establishments ready to serve customers with ASD. Map helps families to find quality services in their environment.
To join the programme hairdressers and dentistry from all regions of Ukraine contact us by +38(050) 418 28 25. More details in video by the following link: https://fb.watch/1x4x86U-n8/
For the record:
The programm «AUTISM FRIENDLY SPACE» (AFS) – was initiated by the Association of international and all-Ukrainian public organizations «Child.ua» and aimed for creation of friendly space for individuals with autism. About 30 projects held annually as part of the program.
One of the ongoing project of AFS — is map «Autism Friendly Space» https://autism.ua/autism-friendly-space/30-karta-autism-friendly-space, where are placed companies providing services for people with autism. About 70 companies from different areas is marked on a map. Each companies may become an autism friendly and can be marked on the map.
December 2020 – January 2021 AFS supported by Zagoriy Foundation holds 2 educational program for dentistry and hairdresser to teach how to deal with customers with ASD.
Charitable Fund "Zagoriy Foundation" was founded in 2015 by Glib, Katerina and Volodimir Zagoriy for charitable projects realization. Zagoriy Foundation systematically implements a charitable experience accumulated through generations, — that could make important contributions to national development. Fund supports long-term initiatives importance to Ukrainian society and participates in activities aimed at popularization of charitable activity. The Fund priority is development the culture of charity. For more information about Fund activity by the following link: https://zagoriy.foundation/