A series of webinars of the Academy of People for families that benefit children with autism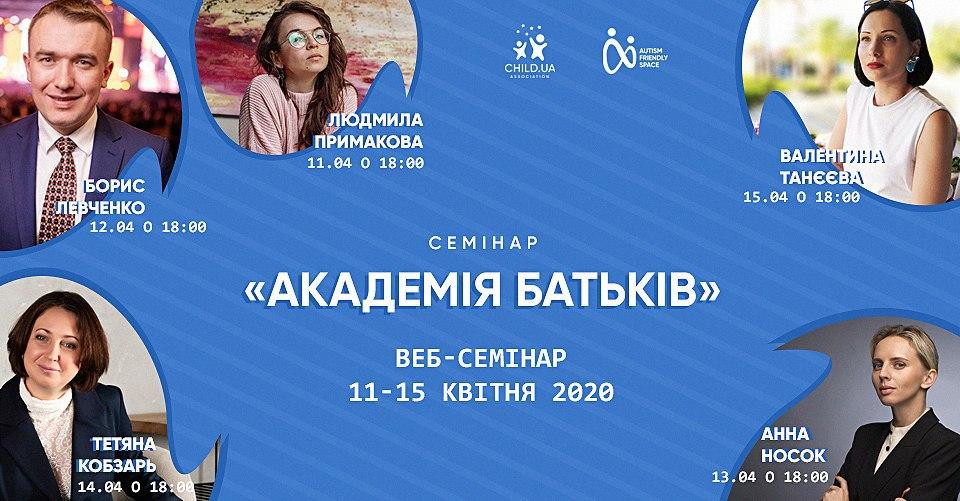 On April 11-15, during the April AUTISM FRIENDLY SPACE Marathon of the CHILD.UA Association, a series of webinars "Parent's Academy" for families raising children with autism took place.
"Parent's Academy" is a platform where parents gain practical knowledge for additional/basic earnings and advice from professionals in various fields. All webinars were held in ZOOM and Telegram.
On April 11, "Parent's Academy" was opened by a mother of a large family working in a turbo-mode, Lyudmila Primakova told us about the first steps to remote work. Not only did Lyudmila inspired moms to change their lives, she also gave them specific tasks as a homework. In her example, she described how to choose a niche and find exactly what you like. Because it is not enough to have only money in the life. The rule of Lyudmila's life is – love yourself, find your favorite business, create a plan and specific actions to achieve it! Lyudmila also spoke about the newest professions that can help you to make for living and how to set goals properly to achieve your dream. Link to the speaker's social network ⤵️Instagram: https://www.instagram.com/lyuda.pr/
On April 12, the second webinar from Boris Levchenko took place, he is a financial consultant, business coach, director of insurance broker SL Ukraine and the father of a wonderful girl. At the seminar, participants learned about the process of earning for living in the life insurance company. Boris step by step explained how the leading insurance companies work. Parents learned that world insurance companies operating in the world for about 100-150 years are all represented in Ukraine. For Europe and America to have different insurance policies is something regular. In Ukraine, indeed, people are just getting used to it. They also raised a very important topic – how to provide children with education and the future. This topic is especially painful for children with autism and disability of subgroup A.
Link to the speaker's social network ⤵️Instagram: https://www.instagram.com/boris_levc/
On April 13 we spent time talking about SMM and PR marketing. The webinar was hosted by Anna Nosok, a beauty industry insider, trainer and author of beauty training programs and SMM, a well-known blogger and co-owner of PR Agency Potolok, a mom of two amazing sons. Anna, as an expert at SMM, told the workshop participants about social networking tools.
In this lecture there were no pink dreams set, Anna really told how much, where and how it is possible to earn in Instagram, copyrighting and other related directions. The fact is that working in social networks, such as Instagram – is no longer fun. What you need to do now is to ensure that the content is the quality one. The main thing needed is to start and study social networks first and foremost study them yourself, and then get involved in the course training. During the lecture we covered such topics as trends, self-branding, profile anatomy, Instagram TV(IGTV), video posts, and more.
We need to learn how to develop your taste to beautiful texts and photos, as an example we saw Anna's profile on Instagram: @annanosok. Behind the photos of a bright girl we can see responsible mother, winner of the Digital AWARDS 2017, author and lecturer of SMM school "Home Wings", etc.… All these indicate that the strategy of the blogger account with over 200 thousand subscribers was properly created and these tools were given to the mothers of children with special needs.
On April 14, the lecture was delivered by Tatiana Kobzar – an Internet marketer, a specialist in promotion of brands, products and services on social networks, founder and head of the agency "SMM Practice with Tatiana Kobzar". During this lecture we talked about working on Facebook.
The following topics were covered:
➡️ Ways to make money on the Internet.
➡️ Work on Facebook social network.➡️ Where to look for the clients.
➡️ How to get the necessary knowledge for free.
➡️ How to choose a course and not to make a mistake.  Tatiana told that there could be several people hiding behind a bright post on social network. Nowadays, social networking is developing so fast that new fields and professions have emerged, such as targeting, and there are many people responsible for the quality of one-page post on social network, so it is profitable to develop in this direction. On April 15, our webinar was attended by Valentina Taneeva – Oriflame's leader in the title of Golden Director 🤩."What you do now, you pass it on to your children," Valentina emphasized.⠀The following topics were covered:
➡️ Oriflame Opportunities.
➡️  How to start a business with Oriflame without any knowledge.
➡️ How to overcome difficulties in your personal development.
➡️ "Checklist" of important tasks.➡️ Where to look for motivation when things are not going as planned. Valentina gave moms the inspiration not to stop, build their lives and not forget to take care of themselves. If you have the dream, the desire and the persistence, you will sprout even through the asphalt.
All speakers have prepared checklists for the webinars, and participants will also have access to video recordings of these lectures.  Thank you Speakers for your help and your sincere hearts!