Eugenia Tymoshenko visited the celebration of the National Day of Kuwait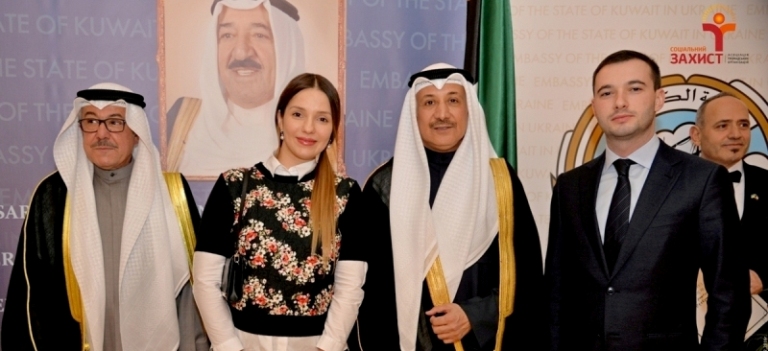 Eugenia Tymoshenko, President of the "Social Protection" Association, was invited to the celebration of the 55thanniversary of Independence of the State of Kuwait, the 25thanniversary of the liberation of the country and the 10thanniversary of the Sabah Al-Ahmad Al-Jaber Al-Sabah'ssuccession to the throne.
Present at the celebration were: Mr Oleksandr Kvitashvili, the Minister of Health of Ukraine, heads of diplomatic missions, representatives of the Ministry of Foreign Affairs of Ukraine and representatives of the Verkhovna Rada group on inter-parliamentary relations with the State of Kuwait,the diaspora members, members of international, Islamic, public and charity organizations.
The guests were welcomed by His Excellency Mr Yousef Hussain Al-Kabandi, Ambassador of the State of Kuwait to Ukraine, and other members of the Kuwaiti diplomatic mission.
Kuwait declared its independence on February 25, 1961, since that timethe National Day of Kuwait has become one of the main holidays in the country. Every yearit is a large-scale celebration, with meetings, street parties, various shows everywhere, including fireworks at night. The streets are full of national flags of Kuwait and colorful clothes, as dressing up in national costumes is a big part of the traditional celebration. Most families prefer to celebrate this day in the family circle or among friends.
On behalf of the Association "Social Protection",we send our warmest congratulations on the National Day of Kuwait and express sincere gratitude to Sheikh Sabah Al-Ahmed Al-Jaber Al-Sabah and Extraordinary and Plenipotentiary Ambassador Mr Youssef Hussein Al-Kabandi for close and fruitful cooperation in the field of children's creative abilities development, in particular, the financial support provided to the International Charity Children's Art Festival "Follow Your Dream" (http://mriy.org/ua/).
We hope that our joint inter-state cooperation will lay the foundation for successful and sustainable development of the Ukrainian society through investments in Ukraine's education, healthcare and cultural development.