A Call for Application for the XIII Festival "Follow your dream" is open!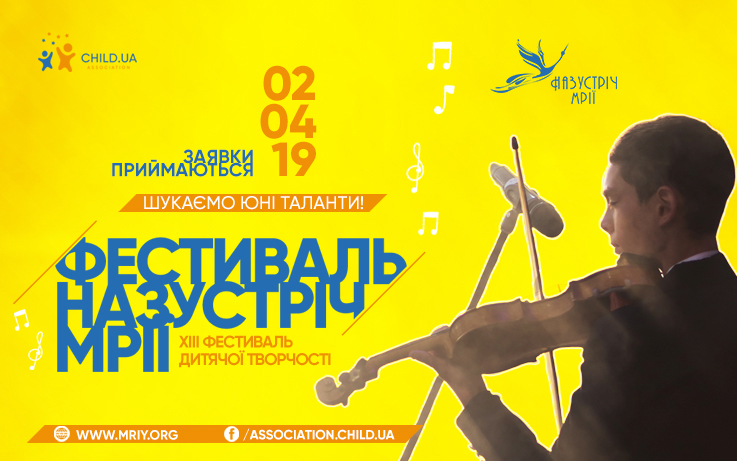 Attention! This year, the International Festival of Children's Art " Follow your dream" will be held in Lviv.
Starting from March 1, 2019, the "Follow your dream" festival announces the beginning of the on-line selection of participants in the creative competition.
We are waiting for your applications and invite you to take part in the qualifying round of the XIII festival "Follow your dream".
Applications and video numbers are accepted until April 2, 2019 inclusive!
Age category from 6 to 17 years.
The procedure for online selection of contestants:
Be sure to get acquainted with the Regulations and fillin an application for participation!
ATTENTION! The organizing committee does not download the video of the participants! To participate in the contest, you must send an application form and a link to the video downloaded on YouTube channel to an email: konkyrs.mriy@gmail.com (video can be shot on a camera or mobile phone). Please note that the video must be signed: the name of the number, the surname and the name of the artist / group name, the settlement and the name of the educational institution.
From April 3, a professional jury composed of famous art and culture figures will select applicants for participation in the XIII Festival of Children's Creativity "Follow your dream".
On April 8, 2019, the Festival organizing committee will take stock and announce the results on www.mriy.org, and also in the social network:
https://www.facebook.com/mriy.org/
https://www.facebook.com/association.child.ua/
The winners of the qualifying round will be invited to participate in the XIII Festival "Follow your dream" with an official letter.
Dates of the XIII Festival "Follow your dream": from June 6-9, 2019
Venue of the XIII Festival "Follow your dream"  and the Gala Concert: Lviv
 For participation in the Festival, please call and write: (044) 4285718, (050) 4138382 e-mail: konkyrs.mriy@gmail.com www.mriy.org