Weekend under the slogan "Autism is a Peculiarity"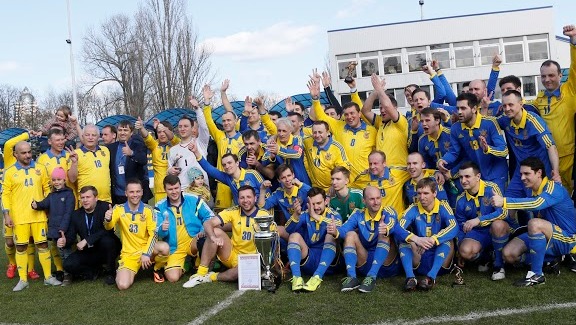 The last weekend in Kyiv went under the slogan "Autism is a Peculiarity"; it was marked by a number of social events organized by the "Social Protection" Association (IASP). There is good reason, as April 2 is the World Autism Awareness Day.
 On Saturday, April 2, the "Social Protection" Association headed by its president Eugenia Tymoshenko held a dynamic flash mob downtown. The Sofiїvska Square was full of people, including families with autistic children, representatives of correction centers and the others eager to join the above event. Its aim was to raise public attention to the needs of the "rain kids" and focus more on autism and, specifically, on its peculiarities. The event was attended by the representatives of the Kyiv Development and Correction Centers for children with autism, who spoke about specialized education programs for children with autism and the pressing challenges. Despite poor weather, the "Pulse" dancing group performed two lively dancing flashmobs, with the Ukrainian flag and blue umbrellas.
 On Sunday, April 3, two unusual football teams met at the Bannikov stadium, represented by the people's deputies of Ukraine and Ukrainian media representatives, who played the first "Parliamentary Cup" charity football match. The organizers of the match, that is, the "Social Protection" Association, the Football Federation of Ukraine and the "Development of Football in Ukraine" charity foundation joined together for the common objective – to raise funds for special equipment of two sensory rooms at the "Primavera" correction center.
 The opening ceremony was impressive, with a talented singer Martha Adamchuk singing the National Anthem of Ukraine. The players were in an excellent physical condition and demonstrated a great game to nearly 1500 spectators. The national football stars, such as Ivan Yaremchuk, Eduard Tseihmestruk, Oleksandr Melashchenko, Serhii Kovalets and Vasyl Kardash joned the teams. Legendary commentator Oleksandr Hlyvynsky worked as a sportscaster. The host of the "Parliamentary Cup" was Volodymyr Andrievsky, who contributed to the festive atmosphere of the match.
 The game ended with a confident win against the deputies' team by five goals to two. Serhii Melnyk, Oleksandr Karapetian, Serhii Shkapa scored goals with Tihran Martirosian as a double goal scorer. Eduard Tseihmestruk scored twice the media's gates.
 The organizers of the charity match achieved their objective, thanks to those people who took an active part in the event! They managed to raise the necessary funds for the equipment of two sensory rooms at the "Primavera" correction center, and, above all, they succeeded to draw public attention to the autism issue in Ukraine. The total sum raised is 222 673 hryvnias.
 The match was just a beginning of the long-term work with regard to problem solving of people with autism in Ukraine. "The society as a whole has to face this issue, recognize its urgency and, thus, start dealing with it on a systematical basis," – said Eugenia Tymoshenko, the president of the "Social Protection" Association at the press briefing before the match.