In Ukraine, an innovative camp "GALAXY CAMP" was held using modern rehabilitation techniques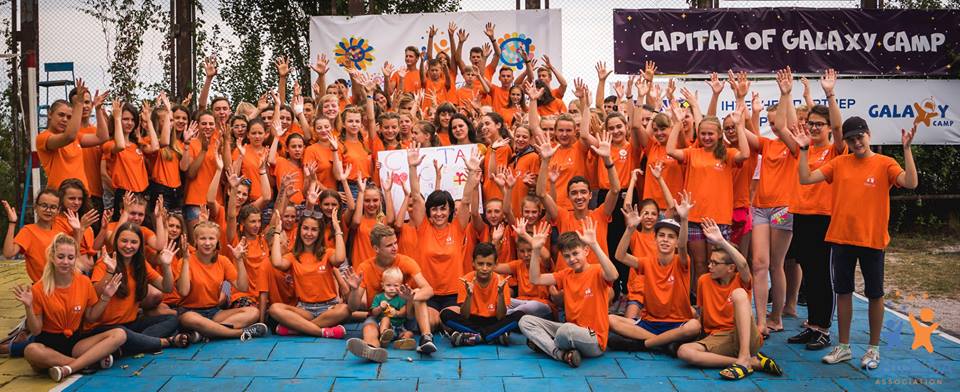 The inclusive creative camp "GALAXY CAMP", organized by the CHILD.UA Association, was held on the basis of the Brigantina DSOK in Koblevo from July 16 to July 30, 2018. The goal of the project is to help pupils of orphanages, boarding schools and displaced children discover their creative potential.
GALAXY CAMP gathered almost 200 talented participants from across the country. Children from ordinary families and children with hearing impairments took part in the camp. The project creates a friendly and very creative environment where, according to the principle of inclusive education, children do not feel the difference. This contributes to their development, psychological rehabilitation and socialization.
Experienced psychologists and teachers, as well as professional actors, musicians, vocalists and choreographers, work with participants in the camp. Camp tutors are famous Ukrainian performers and musicians. Therefore, children can get to know the stars of Ukrainian pop music more closely, and not only learn their skills from them, but also perform with them on the big stage in front of thousands of spectators.
As part of the GALAXY CAMP camp, a gala concert of the XII International Charity Festival "Follow your dream" took place, gathering a record number of spectators this year. All the winners of the "Follow your dream" competition are students of the creative camp.
Thanks to partners from the People's Republic of China, the winners of the festival received laptops, and all participants received mobile phones and fitness bracelets. Among the pupils of the GALAXY CAMP, they also held a quiz, which resulted in 30 children getting vouchers to a camp in China, where they can get closer to the culture and customs of the country, visit various interesting places and events. As early as August 13, the winners will travel to the Middle Kingdom, to cities such as Beijing, Jinan, Tai'an and Qufu and spend 10 busy days in the "Children for Peace" camp, along with their Chinese friends.
Sponsors: Ukrbudinvestbank, People's Republic of China.
Partners: Premier Hotels & Resorts, Charity Found "Sanctity of Motherhood", Atlanta Real Estate Agency, AVTOMASTER Group of Companies, Driving School Koplion, Coca-Cola Beverages Ukraine, Odessa Film Studio, Make-Up School of Kateriny Natochina, Natalia Tolstoy and Oksana Galeta. Special thanks to the company "Em.Ai.Key." for professional equipment for film production.
Information partners: Yuzhnaya Volna TV and Radio Show, KRATU TV, INTV and UKRLIFE.TV Internet TV.
Internet partner: DATAGROUP.
Information:
GALAXY CAMP is the first inclusive creative camp in Ukraine, where innovative methods of social and psychological rehabilitation of children in difficult life circumstances are applied. The techniques include individual work with each pupil and group therapy for children and adolescents ages 7-12 and 13-17. Professional psychologists and artists work with the camp participants.
"Follow your dream" festival was founded in 2007 to support creatively gifted children of socially unprotected categories who are brought up in orphanages and boarding schools. For 12 years, more than 3000 children took part in the festival. The most talented children have already built a successful career in the creative field with the support of tutors from among the star jury of the competition.
Association CHILD.UA is an association that help children of socially unprotected categories. The organization's programs cover more than 6,000 children annually. The association cooperates with 80 boarding schools throughout the country. The organization's volunteers have been working for more than 20 years, during which time about 100,000 children have been reached.