On Achieving Your Dreams on the Air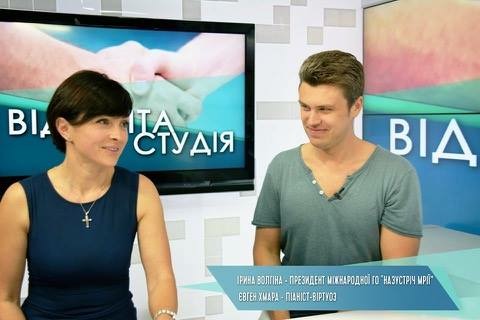 On May, 7 Irina Volgina, President of the ICO "Follow Your Dream", and Yevhen Khmara, composer and a member of the jury of the 10th International Festival "Follow your Dream," were the guests of Vlad Voloshyn's authorial program on the "Social Country." TV Channel. The talk show subject was the anniversary festival "Follow your Dream" in Kyiv on May, 20-22.
The guests shared their sincere emotions and impressions. To them, the given festival was rich in numerous pleasant surprises.
In the first place, all contestants demonstrated an extremely high level of training. We should particularly note Mykyta Chernat from Dzerzhynsk (Donetsk oblast) with his sensitive and adult-like performance of the song "It is Not Your War" ("The Elza's Ocean" band).
"Everyone in our team was touched by Nikita Chernat's history: thanks to our festival he managed to see his father and spend some days with him," – said Irina Volgina, President of ICO "Follow your Dream".
Secondly, all three festival days were bright and spectacular. Besides the would-be stars, the festival also attracted many starry guests. Eugenia Tymoshenko, President of the "Social Protection", opened the festival, wishing everyone victory and good competition.
"The dream is a target plus working hard. And during the competition, we watched the painstaking efforts our contestants made so that to achieve their dreams", – shared his impressions Evhen Khmara.
Yulia Tymoshenko, the "godmother" of the festival, visited a gala concert on May, 22. She willingly had photos taken and talked with the contestants, along with giving them some valuable advice. Yulia Tymoshenko had a responsible mission, that is, to give away the Grand Prix to the winner. To Julia Tymoshenko, "the key objective of the festival was achieved: the children have believed in themselves and have discovered their talents", – remarked Irina Volgina.
We are grateful to the "Social Country" TV channel for the invitation and information support of such important creative events. We look forward to our cooperation next year at the 11th International Festival "Follow your Dream", new successful discoveries and creative achievements.