Oliynyk, Kishe, Osipov and Stupka held masliana of peace festival together with kids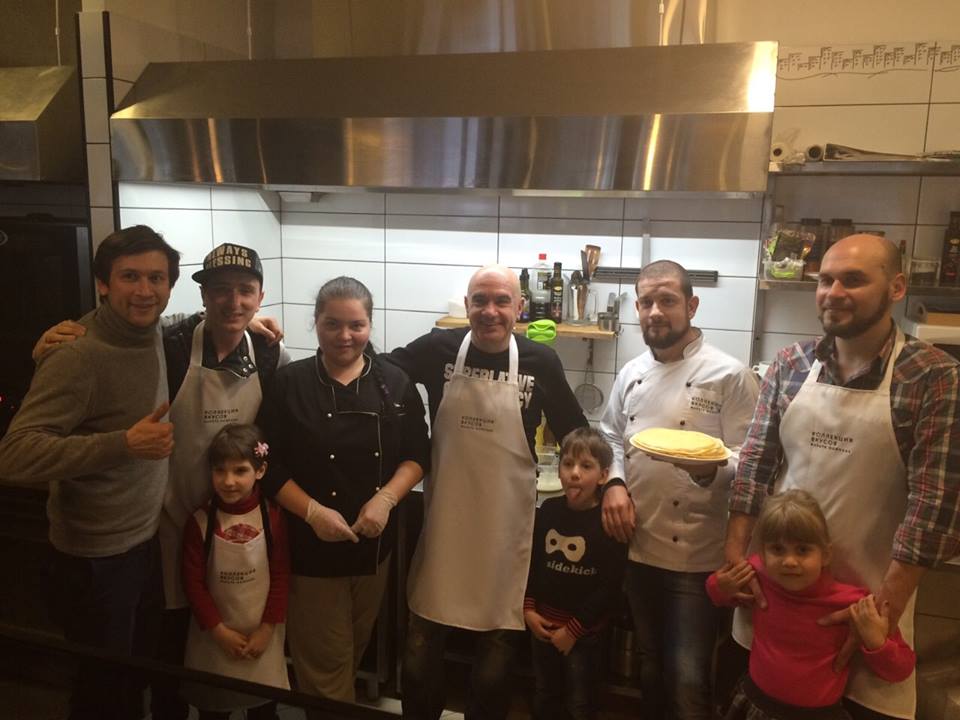 On Forgiveness Sunday, with the support of International NGO Nazustrich Mrii, Ukrainian celebrities held a charity event called Masliana of Peace together with kids.
Orphans from the Moya Rodyna (My Family) Center of Social Rehabilitation and caring Ukrainian celebrities – front man of Dio.films band Vlad Oliynyk, winner of Golos Krayiny TV-contest Ihor Grohotskiy, singer Andriy Kishe with his wife Oksana and daughters, restaurateurs Marat Osypov and Aliona Starukh, chef of many TV food shows Volodymyr Yaroslavskiy, actor Dmytro Stupka, presenter and conferencier Dmytro Oskin, young singers Alisa Milosh and Svitlana Solomina, radio presenter Kyrylo Kapustin with his family, producer of football clubMaestro Vladyslav Sotnikov, presenter Oleksandr Kupidon with his wife and daughter, singer Yaroslove and others – gathered in Kyiv café Korytsia.
At the beginning of the event, the kids and star guests drew together a wonderful picture that symbolized world, spring and prosperity.
By the way, the picture has already been put for an auction of the Talent Energy Fest in the Kyiv Fortress. All funds from its sale will be transferred for the needs of the Ukrainian army.
Then, the kids and celebrities were divided into two teams led by Volodymyr Yaroslavskiy and Marat Osypov, each of which was trying to cook as many pancakes as possible. In the end, friendship won! After that, the celebrities entertained the guests of the Masliana of Peace with their handmade pancakes with different tasty fillings.
The end of the Masliana of Peace was very emotional and hearty. Both kids and adults joined their hands and went out to a sports ground where they formed a big circle and released yellow and blue balloons in the sky wishing peace to return to Ukraine. Let there be peace!