News of the Association's members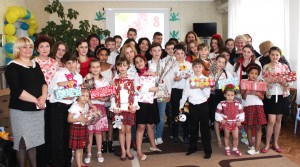 Members of the Association "Social protection" (IASP) ICF "Abundant Life" together with volunteers celebrated the holiday of spring, beauty and femininity in Kiev regional center of social-psychological rehabilitation for children "Sezinkiv", Kyiv region. At the moment in the centre there are about 60 children.
The children met their guests very warmly, has prepared an unforgettable concert with songs and dances, which caused tears of joy and pride for such sincere and kind children. 
After the concert, by tradition, volunteers played interesting games in the fresh air, were just having fun with the kids and had a nice time. 
Thanks to the friends and Foundation partners – ICO "Pogliad" (Insight), every child received a nice holiday gift. 
All were very pleased and looking forward to the next meeting.