"Healing Music" by Evgeny Khmara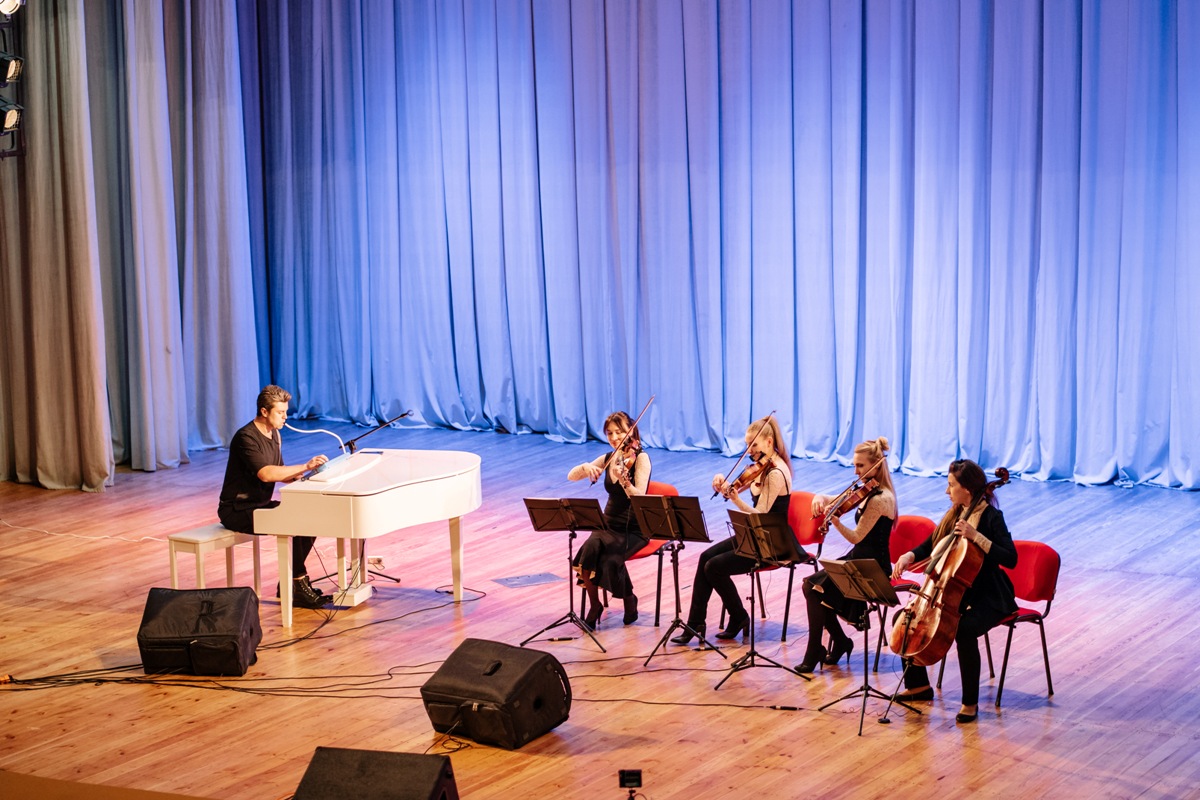 December 3, 2018, on the International Day of People with Disabilities, in the Kyiv Palace of Children and Youth held a charity concert "Healing Music". An incredible evening was presented by a talented Ukrainian composer, virtuoso pianist Evgeny Khmara accompanied by the BLACK TIE quartet. The event gathered about 600 guests, and everyone present received delicious gifts from the UAE Embassy in Ukraine.
"This concert is very special for me it idea came a long time ago – I received many letters from people from different countries who wrote that my music has a healing effect. All the songs that I wrote, come from the heart and people feel it. Music is a very big power, it can give hope and heal the soul. I am very happy that I can do this"- says Evgeny Khmara.
The music of the brilliant pianist captured the audience on a journey through time and space. Together with a virtuoso performer on the stage, people in the hall created their own unique musical compositions.
"With his unique music, Evgeny Khmara appeals to people, his melodies have energy that can heal the soul. For the third year in a row, we have been organizing music therapy events for children with special needs"- sayssaid Eugenia Tymoshenko, President of the CHILD.UA Association. "But the goal of this event is not only music therapy, but also drawing public attention to the problems of people with disabilities, their full integration into society"-she adds.
All participants of the event received not only unforgettable impressions of the concert, but also pleasant gifts from the Embassy of the United Arab Emirates in Ukraine.
"The Embassy of the United Arab Emirates in Ukraine supports charitable projects for children and families in need of help, including people with disabilities"- says Mr. Abdullah Al-Suwaydi, Head of the Financial, Administrative, Consular and Citizens Affairs Department of the United Arab Emirates. He added that for more than a year, the Embassy has been directing assistance from Emirati charities such as the Charity Organization of Muhammad bin Rashid Al Maktoum, the Charitable House of Sharjah, the Red Crescent and a number of others to support low-income families in Ukraine.
Special thanks to all the volunteers, and to our regular partners: Kyiv Palace of Children and Youth, and the network of music stores In-Jazz and YAMAHA.
Reference
Evgeny Khmara – Ukrainian composer, virtuoso pianist, winner of the Hollywood improvisers award, Presidential award for achievements in the musical field and the prestigious Yamaha Artist International Status, along with such famous performers as James Blunt, Elton John, Paul McCartney, Stevie Wonder and other musical geniuses modernity. Evgeny supports charitable and social projects, as well as cultural development of talented youth.