Eugenia Tymoshenko has awarded nominees of Grand Prix of IX "Follow your dream" festival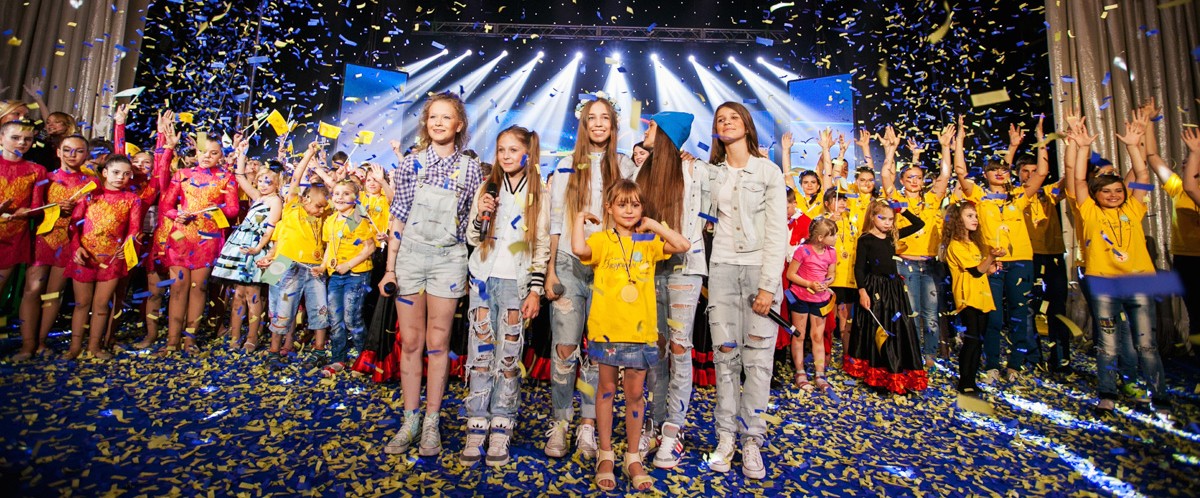 On 1 June, on the International Day for Protection of Children, the final gala-concert "Golos Myru" within the IX International Charity Festival of Children's Arts "Follow Your Dream" took place at the Kyiv Palace of Children and Youth.
All funds raised from donations will be spent for rehabilitation of children-refugees from the East of Ukraine and winners of the "Follow Your Dream" Festival. 
"Our Festival is a unique opportunity, first of all, for children living in difficult circumstances to realize their personal dreams. Every our participant makes a courageous step towards his or her dream by changing his/her life. By means of raising children and realizing their dreams we also form and change ourselves for the better. This means that the world around is also changing for the better," – said Yevgeniya Tymoshenko, President of the Association of International and All-Ukrainian NGOs "Social Protection", during a press-briefing.
Over 200 talented children participated in the Festival together with Ukrainian celebrities, namely:
Alyosha, Monatik, Viktor Pavlik, Tetyana Piskaryova, Arkadiy Voytyuk, Vitalka (Garik Bircha), Svitlana Tarabarova, Maks Nelipa, Olya Tsybulska, Arsen Mirzoyan, Yuri Godo, Katya Bright, Alexander Tulinov, Viacheslav Rybikov, Tania BerQ, Oleh Kenzov,  Ruslan Makhov, Olena Goncharuk, Kley Ugryumogo, Open Kids, Teulis Shadows Theater, Kyiv Todes Ballet Studio, Kobzov Circus and others.
Besides, talented and well-known Ukrainian painter Kostyantyn Koposov held a selling exhibition of his paintings. 20% from sales of every work will be donated by him for rehabilitation of children-refugees from the East of Ukraine and Crimea.
This year a lot of respectable guests attended the festival – public figures, politicians and diplomats. In particular, Ambassadors of Kuwait, Malaysia and Bulgaria as well as representatives of other diplomatic missions came personally to support children.
Everybody was especially impresed by the performance of Kateryna Davoyan and Oleksandr Kaluger who became winners of Festival's Grand Prix. The boy has his leg partially amputated but he…led his partner in a magnificent and complicated dance routine!!!
President of the Association "Social Protection" Yevgeniya Tymoshenko gave the pair commemorative prizes: a diploma, a statuette, and a voucher for trip to Georgia. She also expressed her admiration of Oleksandr's spirit: "This is an impressive example of strength of will, the will to live and create. Despite everything, Sashko is pursuing his dream and overcoming all obstacles. On our part, we will do everything we can so that the boy lives a full-fledged life, and give him a new artificial limb" – Yevgeniya Tymoshenko stressed and urged everyone to never give up on the way to your dream.
All children who visited the Festival of Kindness and Charity got positive impressions, played in the game zone, created different handmade items together with ART-Fabrika, made photos in the photo-zone together with famous artists. Dj BATMAN entertained children. All visitors got "Rud" ice-cream as sweet treat from the Festival.
You can see video from the Festival here:
"We are very glad to hold the Festival. Every year, it increases its scale and reaches new orbits. Next year we will have the jubilee X Festival "Follow Your Dream". We have already started preparations and we are contemplating how to entertain children. Their happy smiles are the best prize for us," – Iryna Volgina, President of the NGO "Follow Your Dream", noted.
The "Follow Your Dream" Festival is the FIRST and ONLY charitable creativity competition for socially disadvantaged children (refugees, orphans, children from large and low-income families, children deprived of parental care, children from foster homes and small family child care homes) in Ukraine. As a social event, our Festival unites diplomats, politicians, public figures, representatives of business and arts from all over the world.
Festival organizers:
Association of NGOs "Social Protection", INGO "Follow Your Dream", ICO "Pogliad" (In Sight) and volunteer movement "Golos Myru" (Voice of Peace).
The Festival is held under the patronage of Yulia Tymoshenko, Head of the Batkivshchyna Party, and with support from the Ministry of Youth and Sports of Ukraine.
The main partner of the Festival is the chain of hotels Premier Hotels & Resorts – Accommodation of festival participants, breakfasts and three vouchers for weekend trips for two to Odessa, Kharkiv and Poltava.
"Blooming" partner – LoraShen Flower Company. Flower arranging, stage decoration and flowers for artists.
Prize partners– TURAL, Associazione Europea Luce Della Speranza, Delta Sport, Bella Trade, NataliaSpizhenko's Jewelry House, Malaysian Council of Palm Oil Producers, Coca-Cola etc.
Main media-partner –  UKRLIFE.TV, as well as: INTV, TV MARS, TK Sotsialna Krayina, KyivPost, Radio Liberty, National Radio of Ukraine, KupyKupon and Metro+ Newspaper.
More detailed information: www.mriy.org