Creating good is possible and necessary constantly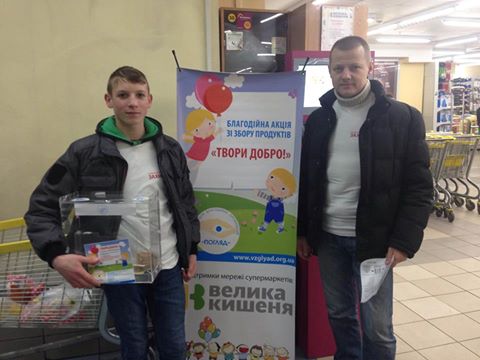 Charitable event "Tvori dobro" ("Do Good") held by International Charitable Organization "Poglyad" is still carried out in some Kiev supermarkets "VelykaKishenya" ("Big Pocket").
Once again, kievites are able to help children from social-rehabilitation centres. In supermarket chain "VelykaKishenya" ("Big Pocket") volunteers collect necessary household things and food during two days – 5th and 6th of February.
DmitriyDychakovskiy (businessman from Kiev) is active volunteer of theInternational Charitable Organization "Poglyad".  He says that he is glad to help children not only buying food and clothes, but also collecting things and informing kievites about charitable events and work of the fund. "People buys less food nowadays. Maybe they are tired. But anyway, they respond to the appeal to help. This is very pleasant."
Everybody who is willing to make unprotected children's life better and bright can join this event. To buy household things and food is enough for that purpose, after that it should be passed to volunteers.
To become one of us, look for the volunteers in the next supermarkets:
Pecherska, 1
Lyatoshinskogo,str. 14
Victoriessq, 3
Saperno-slobidska str,10
Vasil'kivskastr, 8
Glushkovapr, 36
Chernobil'skastr, 16/80
DryjbuNarodovsq, 6