Circus «Kobzov» and Association «Social Protection» headed a charity show for families De-fenders of Ukraine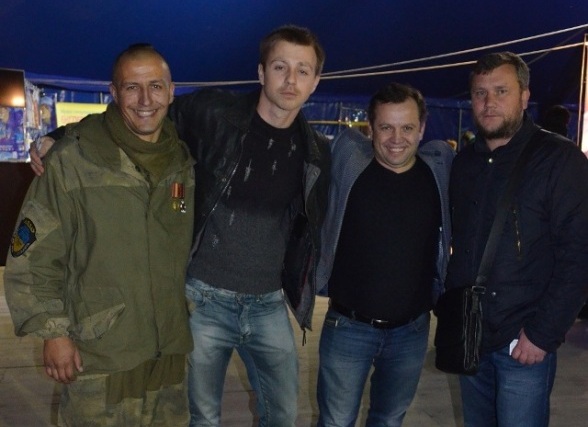 On November 11th , the largest in Ukraine Circus «Kobzov» with the support of the Association «Social Protection» headed by Eugenia Tymoshenko held a charity event for families of Defenders of Ukraine.
The founder of Circus «Kobzov» Mykola Kobzov took the initiative to invite the soldiers and their families at a special charity show. Soldiers and their families from all over Ukraine came to watch the programm «Angels of Circus».
«Angels of Circus for angels of our life» is the slogan of the show because it's so important to re-member the moments and make happy those people who defended all of us. Circus «Kobzov» gathered the audience of young and old, because everyone wants to dive into a story that will give a good mood and faith in life.
Soldiers and their families shared their impressions. It's not just a show, it is a huge area for meeting with colleagues, for communication, as well as a good family holiday.
«I was for the first time on a such a show, but I am convinced that it's a great idea and a good op-portunity to spend time with family, especially after my experience with firing bullets. I can have fun together with my family, just laugh and enjoy life. Such events are very important, because each of us returning from the front line needs moral and psychological rehabilitation, so my family and I, we sincerely want to thank for this opportunity to Eugenia Tymoshenko, Association «Social Pro-tection» and circus «Kobzov», for the opportunity to dive into the real story, at least for one night!» – Vyacheslav, 25th battalion.
Circus «Kobzov» presented an extraordinary fairy tale for children and adults. It is difficult to con-vey the mood of spectators, the sea of emotions and applause, happiness and joy for children and their parents. In difficult moments we still need to laugh and enjoy life, and plunged into such a vi-vid tale one begins to believe in miracles.
«Our task as public organizations, is to create suitable conditions for rehabilitation of soldiers. This great event helps to get away and forget the fear of war by immersing in a vivid tale. We will not stop, we will continue to organize such events, which would return our defenders bright moments of life. Arts and Culture – are the most effective tools, they are the voice of peace that unites and inspires each of us to do good things. The volunteer movement «Voice of Peace» we created with the aim to draw attention to those who need our support. Therefore, we sincerely thank those who care, we thank circus «Korbzov» for this opportunity and presenting an incredible tale and joy to those who need it so much. We are happy to encourage and help to organize such events, the main thing is the desire and desire to give goodness» – Eugenia Tymoshenko, the president of the Association «Social protection».
Photos from the event can be viewed here.