Charity shows for the Easter holiday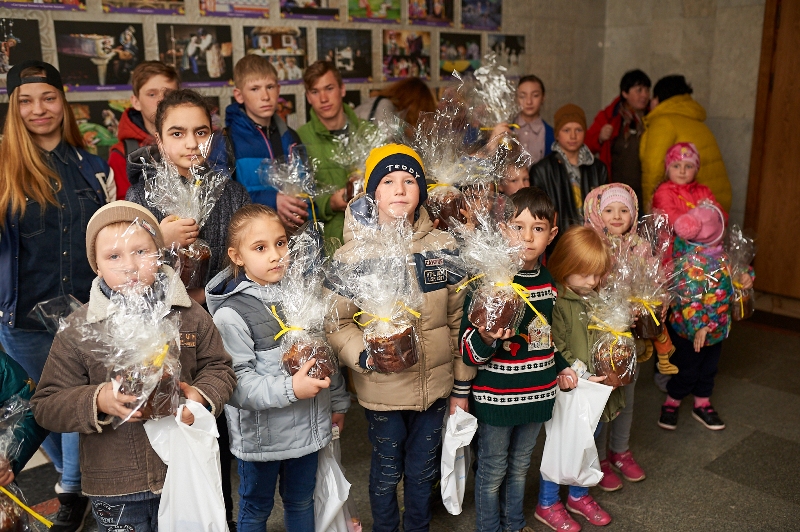 April 11, 2018 – a charity performance  "Oscar" by the families of socially disadvantaged categories took place at the Puppet Theater on the left bank of the Dnieper at the initiative of the Association "CHILD.UA". 150 children of senior school age and adults watched a philosophical performance based on the work of the French author of the classic characters of contemporary world literature known as Eric-Emmanuel Schmitt Oscar and the Pink Lady.
The profound questions of being and death as perceived by a child are chronicled by puppets as the correspondence of the child with the Creator. Pink Lady taught ten-year-old boy Oscar to talk to God. Thanks to the efforts of this amazing woman, Oscar believed that life is simple and can be understood and felt very quickly. In the last days of his life, the boy found his true self. He discovered some of life's wonderful moments and lived them fully.
"Oscar" gives faith and reminds us of the value of every moment of life and the people who love us.
April 12, 2018 – At the Kyiv Puppet Theater on the Left Bank of the Dnieper, a charity show for children from crisis families and settlers was held at the initiative of the Child.ua Association. A wonderful whimsical and instructive fairy tale for children, which teaches us what can happen if children got everything they love. At the end of the show everyone received sweet gifts from the organization.
Everyone got tasty gifts for the Easter holiday.
We sincerely thank the actors for the wonderful game, and the management for their fruitful cooperation.
Photos from the Oscar performance can be viewed HERE
Photos from "Princess on the Roof" can be viewed HERE