Workshop "Towards Inclusion" on Teacher's Day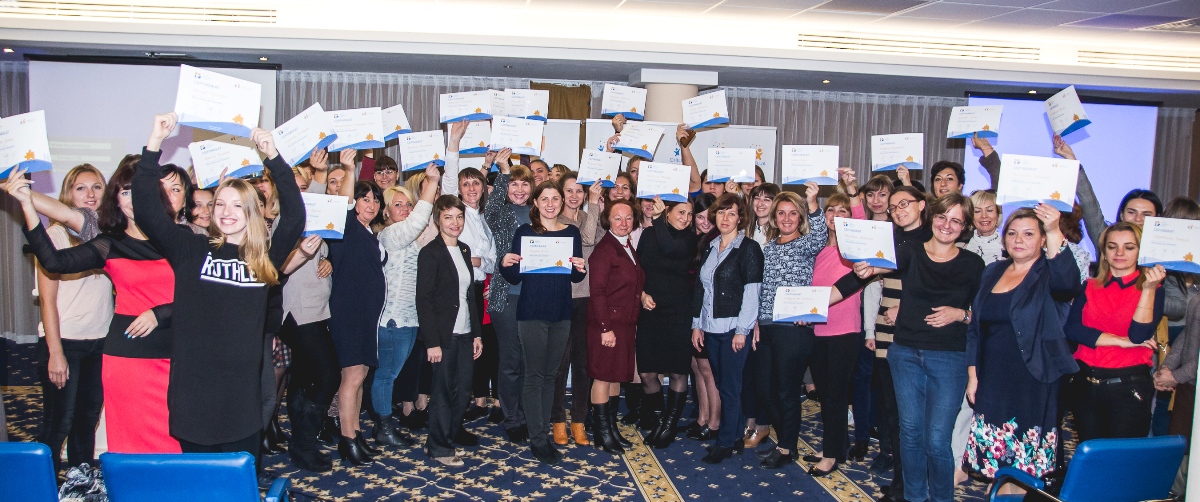 On the eve of Teacher's Day, October 6, the Premier Hotel Rus held a practical seminar "Towards Inclusion", gathering about 100 representatives of general and special institutions of secondary and pre-school education to work with children with special educational needs, in particular children with autism. The event was organized by the CHILD.UA Association and the AUTISM.UA information portal as part of the AUTISM AWARENESS UKRAINE autism awareness program.
"Working with children with special educational needs, and especially learning, is not an easy task, but very important for the future, because we are just starting the path to inclusive education. Through such informational events, we strive to convey useful information to teachers who are trying to create a friendly school environment so that these children have equal opportunities and are integrated into society"- says Eugenia Tymoshenko, president of the CHILD.UA Association.
Ekaterina Boyarshinova, an expert-level practicing psychologist, and president of the Independent Association of Psychologists, noted that informing society about the existence of people with mental health problems is the first step in overcoming stigmatization. "Every child has special educational needs. Technologies that help children with certain problems also work well as a whole. I hope that inclusion in education will work. This hope is fed by a large number of motivated specialists who do not spare free time to improve their own competencies at such educational events"- she concludes.
The seminar talked about social inclusion, features of the development of children with special educational needs and the creation of a free educational environment. Among the speakers are practical psychologists and teachers, as well as developers of innovative training and correctional methods.
"Social inclusion is the norm of the civilized world, but in order to introduce its values ​​and principles in Ukraine, we have to "cut" it into pieces, like a multi-layered pie. Therefore, we are talking about the educational inclusion of children with special educational needs, the inclusion of children from institutions, and the like. And today, the training of all stakeholders – teachers, parents, children themselves, school administration, IRC workers, etc. – can be effective only if we are not only teaching what to do and how, but do not forget about why we are doing it and for what"- notes Olga Baydarova, Ph.D. in psychological sciences, development manager at IPO "International center of development and leadership".
Tatiana Skrypnyk, professor at Kiev University. Grinchenko, Chairman of the Council of the "Little Prince", in her speech revealed ways to create a modern, attractive for all, developing educational environment, based on the innovative strategy "Class Management". "The environment should be bright, attractive, and at the same time – personal, variable, aimed at cognitive and social development. Pupils should become creators of the educational environment together with the teacher and with the direct participation of parents"- emphasizes Tatiana Skrypnyk.
Irina Sergienko, Development Director of the Child with the Future Foundation, noted that: "People around a special child are also part of an inclusive environment. Their kind attitude towards such a child is very important. If the people around are benevolent, then physical adaptation to the environment will not be long in coming".
Tatyana Skrypnyk, a children's psychiatrist of the highest category, chairman of the Expert Council of the Independent Psychological Association, gave examples of real clinical cases from her practice and noted: "The participation of a psychiatrist is an important component of comprehensive care for a child who has mental health problems. Such participation is useful in determining the child's "zone of proximal development", determining the level of possibilities, is physiologically determined, and will be useful in forming an individual training plan for the child".
Anna Usatenko, a practicing psychologist and head of the DivoGra publishing project, told how to use alternative Communication tools, in particular pictograms, in teaching. Through the use of books with pictograms, children with special educational needs who have difficulty reading or studying have the opportunity to acquire new skills and to join the world of literature as a whole.
Anna Solovyova, co-founder of HumanIT, presented the results of a technology project to diagnose and socially adapt children with autism spectrum disorders. The innovative application developed by the project team, Odry_VR, allows you to undergo remedial therapy at home under the remote control of a practitioner.
The organizers thank the partners – Premier Hotels & Resorts, LoraShen, Yarych, Coca-Cola Beverages Ukraine for the ongoing support of socially important events, as well as the media partners UAinfo, INTV, Mars TV and Vseosvit for their coverage.